Car dealerships are busy places and mistakes happen—including, sometimes, losing the key to a vehicle. Temporarily misplacing a key can create a huge headache for both you and your customers who may have turned over keys to your service department, or are looking to test drive a vehicle. And it's a costly mistake: Replacing it could run anywhere from $200-$700, not to mention the lost opportunities to sell or test drive the vehicle while you wait for a new key.
There is a way to avoid this problem. A dealer tracking system alleviates these issues and allows you to focus on what you do best—selling cars—not finding keys.
Below are three things to consider when looking at a potential system, followed by an introduction to two technologies you may consider for dealership key management:
3 Things To Consider When Evaluating Key Tracking Systems For Car Dealerships
1. Does it allow you to actually
find

missing keys?

Many systems provide an audit log of who checked out a key and when. While that's helpful, it doesn't help you locate the actual missing key. So here's the decision: Are you looking for a system that tells you who should have the keys, or one that tells you precisely where the keys are located at any given time?
2. Can you identify which keys have been stored incorrectly?
You need to know which keys you have in your inventory—but you also need to know if any keys are stored in incorrect areas or have left the perimeter. This helps ensure that potential buyers get behind the wheel as soon as they're interested in a vehicle (instead of waiting for you to search out the keys).
3. Can you receive alerts when keys are moved during off-hours?
The risk of vehicle theft increases when keys aren't stored properly or are misplaced. To help combat this, choose a dealer tracking system that can alert you via email or text when keys go missing or are moved around the dealership after hours.
There are several key systems for car dealerships to be aware of, but two of those—key management drawer systems and RTLS key tracking—are most common:
Key Management Drawer Systems
Systems like KeyTrak or KEYPer are pass-coded or key-locked boxes used to store vehicle keys. When a key is "checked out" from the drawer or box, it creates an audit trail.
Advantages:
They offer better security security.

These systems prevent unauthorized personnel from taking keys.
They note who takes each key.

If a key goes missing, you have a "chain of evidence" to help track down the location of the key.
Disadvantage:
They don't track key location.

These systems do track the actual location of keys, so it won't help you physically locate them. Knowing that one of your salespeople checked out a particular key is good information to have—but it doesn't mean that individual remembers which car he was in or where he was in the dealer lot when the key fell out of his pocket.
Real-Time Location System (RTLS) Key Tracking
Real-time location key tracking systems are a smart option for car dealerships. To get started, you simply affix a small dealership key tag to each key and place readers in the areas where keys are most likely to be.
There are a number of different types of RTLS systems including infrared, WiFi-based, ultra wide-band (UWB), passive RFID, proprietary, and active Bluetooth-based RTLS. While each of these systems have their strengths, we've found that Bluetooth-based systems like AirFinder are particularly well-suited for dealer tracking because:
They save time.

For example, if a key with your dealership's key tag affixed is dropped in a precarious place on the auto shop floor, you can save your mechanics the headache of searching all over the bay and track the key's location quickly and easily.
They send custom alerts.

Not only does RTLS key tracking technology track the location of every key at all times, it also alerts dealers when keys are removed from the dealership. Additionally, you could set up the system to send an alert if a key has been in the lot for a number of hours. This helps dealerships to find keys that have been left in vehicles, which can be difficult to track down otherwise.
They can be installed quickly.

All you have to do to get your dealer tracking system up and running is install a central "gateway" device on site and connect it to the internet via ethernet or cellular data. This device will send all key data to the internet. Then small plug-in readers are installed throughout the dealership—and you can begin tracking keys.
They have low power consumption.

Where power is not available, solar-powered enclosures are an option.
They can be used to track a variety of assets.

Once an RTLS system is installed, it can be used at the dealer to track cars, supplies, parts, and even people. Many dealers discover the added benefits of being able to locate other supplies or personnel quickly.
Disadvantage:
They need many readers for better location accuracy: The location accuracy of RFID-based tracking systems like

AirFinder

is only as good as the number of readers you have. But due to the inexpensive nature of RFID-based RTLS, adding additional readers where they're needed is a simple fix.
Integrating both a key management drawer system and RTLS technology like AirFinder can help you create a robust dealer tracking system.
We've found that the audit trail of key checkouts deters abuse, but does not prevent keys from being accidentally misplaced. Using RTLS tracking technology in conjunction with any existing key management system will give your dealership an extremely efficient key tracking solution.
Looking for more dealer tracking information?
RTLS key tracking can save your dealership thousands of dollars–and the inevitable frustration!—in lost keys and lost time. For more information, download the white paper below. It walks through more key tracking options and further explains why AirFinder may be a good solution to integrate at your dealership.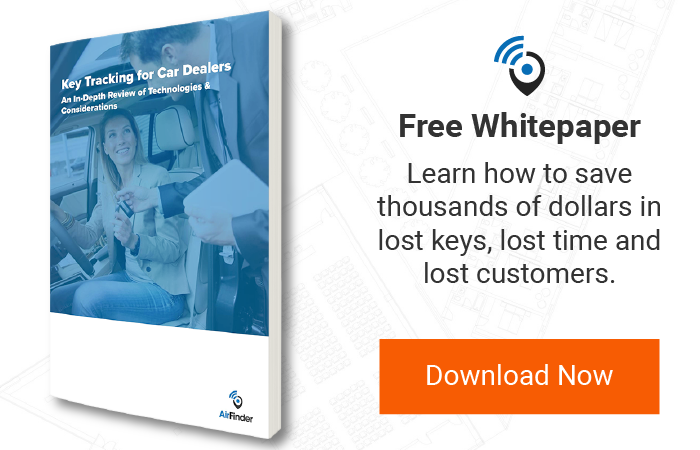 ---
Interested in giving AirFinder a go for key tracking?